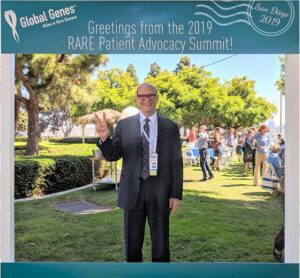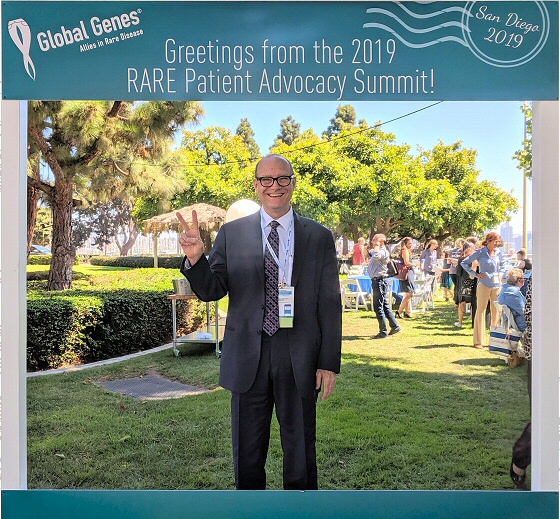 I just returned from the 2019 Global Genes Rare Advocacy Summit with the Rare Champion of Hope award in the category of science.
It was one of the most exciting and inspirational meetings I've attended, filled with successful disease advocates, brilliant researchers, and leaders in genomic and advocacy technologies. What I learned there will change how Dupuytren Research Group proceeds with the mission of a Dupuytren cure.
This event, with so many disease advocates for difficult genetic diseases, cast a light on the fundamental question of how Dupuytren is treated and how should it be treated.
This is the transcript of the acceptance speech I gave:
Thank you, Global Genes. I'm immensely grateful for this honor. Dupuytren disease can cripple hands. Bending fingers into the palms, slowly, permanently. Other serious health effects result in diminished quality of life, greater cancer risk, shortened lives, passed from one generation to the next.
I have Dupuytren. Fortunately, mine's not bad but my late wife's father had severe treatment-resistant Dupuytren. Lost most of the use of his hands despite many operations. So, my children have Dupuytren in both family lines, at high risk to suffer the same fate as their grandfather.
NORD describes Dupuytren as a rare disease. Textbooks describe it as incurable. There's no medicine. It's only treated by surgeons. One option might be to wait for bent fingers, do a procedure to make them less bent, and keep repeating this until it stops working or there's a terrible complication – and ignore everything else about the disease. So, yes, if that were the only treatment, it would be incurable. Incredibly, that is our current treatment model and has been for almost 200 years. How is that even possible? Hasn't there been any research?
There has. A lot. But disease research is compartmentalized. Surgeons do research on fixing local complications such as straightening bent fingers. Medical doctors do research on preventing systemic complications. That's the research we need. But hand surgeons – the ones who treat Dupuytren – don't do that type of medical research at all, and medical doctors don't treat Dupuytren at all, so Dupuytren patients have been stranded in the abyss between these research silos, waiting for a cure that hasn't been coming.
I know this because I'm a hand surgeon. Before I retired, I specialized in Dupuytren and founded the first nonprofit Dupuytren advocacy group in 2008. Our goal is a cure. The biggest obstacle is the lack of a Dupuytren blood test. No university was working on this because research is compartmentalized, so we're doing the research. Independent, patient-centered, crowdsourced. And so far, self-funded.
There's no pharma funding because there's no blood test to measure drug response. No federal funding to develop a blood test because no one has done a pilot study. So, we're doing the pilot study. It's not the definitive study. It's the study that has to be done to get the data to make the pitch to create the funding to do the definitive study – to develop a quantitative Dupuytren blood test, to match circulating Dupuytren biomarkers to possible medicines, and to have a blood test to rapidly evaluate new treatments not only for Dupuytren but potentially for other systemic fibrotic diseases which kill millions of people every year.
Our work is only possible because of the incredible support of the global Dupuytren patient community. I owe it to this community to give back. I owe it to my family to pay it forward. I owe it to Global Genes for helping change the model of rare disease research and for working to remove the word incurable from our vocabulary. I'm very, very grateful. Thank you.
Charles Eaton MD