May is here. Summer is coming! In many countries, Mother's day is being celebrated this Sunday. It's a meaningful milestone. Dupuytren Research Group is also marking milestones – on a variety of maps.
---
International Dupuytren Data Bank Enrollment
The IDDB is nearing the 3000 enrollee mark: as of today, we have 2996 enrollees. Here is a current breakdown of enrollee locations in the US. If you haven't already done it, sign up for this free study now at https://DupStudy.com.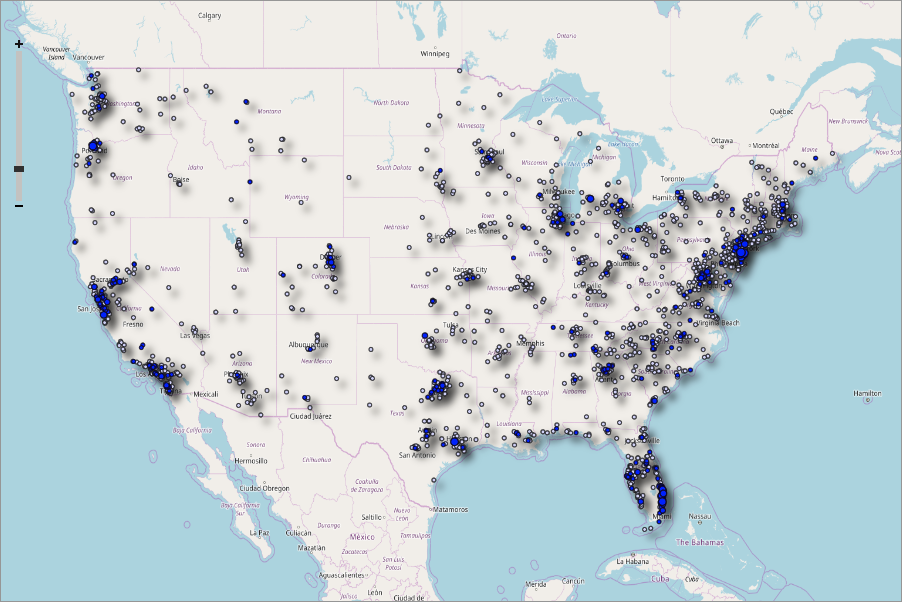 Find your Match!
Spread the word to encourage others to sign up to pass the 3000 enrollee mark for the IDDB. If you have enrolled, you can help by recruiting a control enrollee: someone with the same gender, similar skin color, age, and general health as you – but who doesn't have Dupuytren personally or in their family. Simple, and important as we close in on collecting blood for testing. Have them sign up for this free study at https://DupStudy.com.
---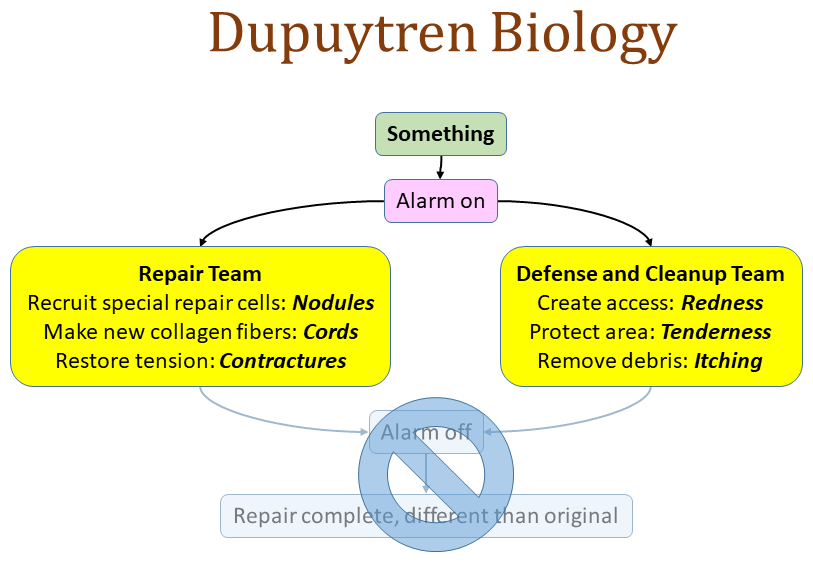 In simple terms, it looks like this. The biology of Dupuytren disease includes things which normally happen in healing, in inflammation, and in the immune system. The big mysteries are what starts it and why it doesn't stop. Oh, if only it were this simple.
---
Systems Biology Analysis
We're continuing to work with Dr. Samrina Rehman and her team to use Systems Biology tools to identify the best candidates to evaluate in the IDDB blood test phase. Systems biology is a way to untangle complicated relationships such as this map Dr. Rehman created of Dupuytren biology: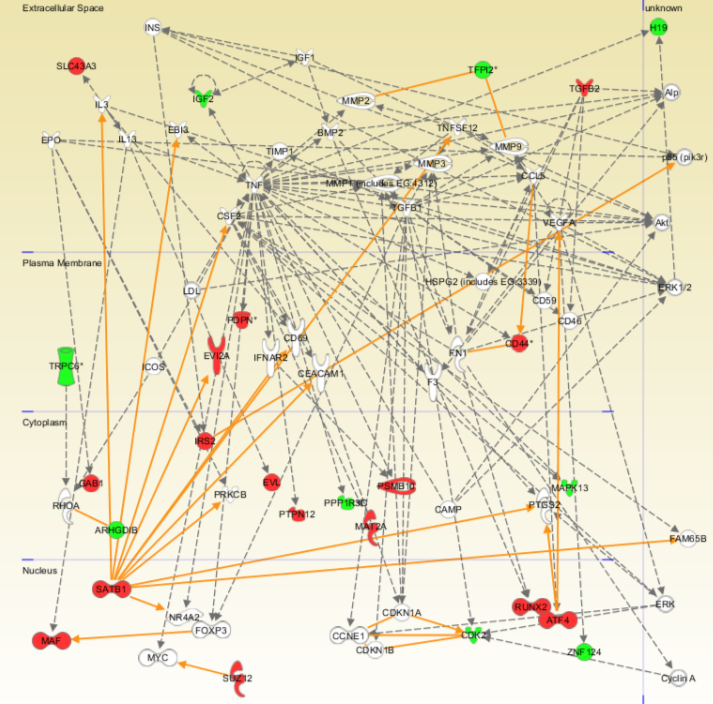 ---
Luxembourg Dupuytren Disease Mapping
Dr. Rehman's map is one way to get a handle on the biology. The trick is speeding up the process by getting as many researchers as we can to work on the project at the same time. Fortunately, there is a new way to do this. Dupuytren Research Group is collaborating with the University of Luxembourg to create a central graphical knowledge base of Dupuytren biology: a disease map. The Luxembourg Centre for Systems Biomedicine has developed a collaborative platform for biologists to share information from their work and from published research, initially focusing on Parkinson disease: https://wwwen.uni.lu/lcsb. They've just finished setting up a parallel platform for the DRG to allow researchers around the world to share information on Dupuytren disease: a Dupuytren Disease map. We're just getting started and have recruited Darien Bellido De Luna to jumpstart the process. This disease mapping goes hand in hand with Systems Biology analysis.
Our goal is to start with what we know about cells and tissues: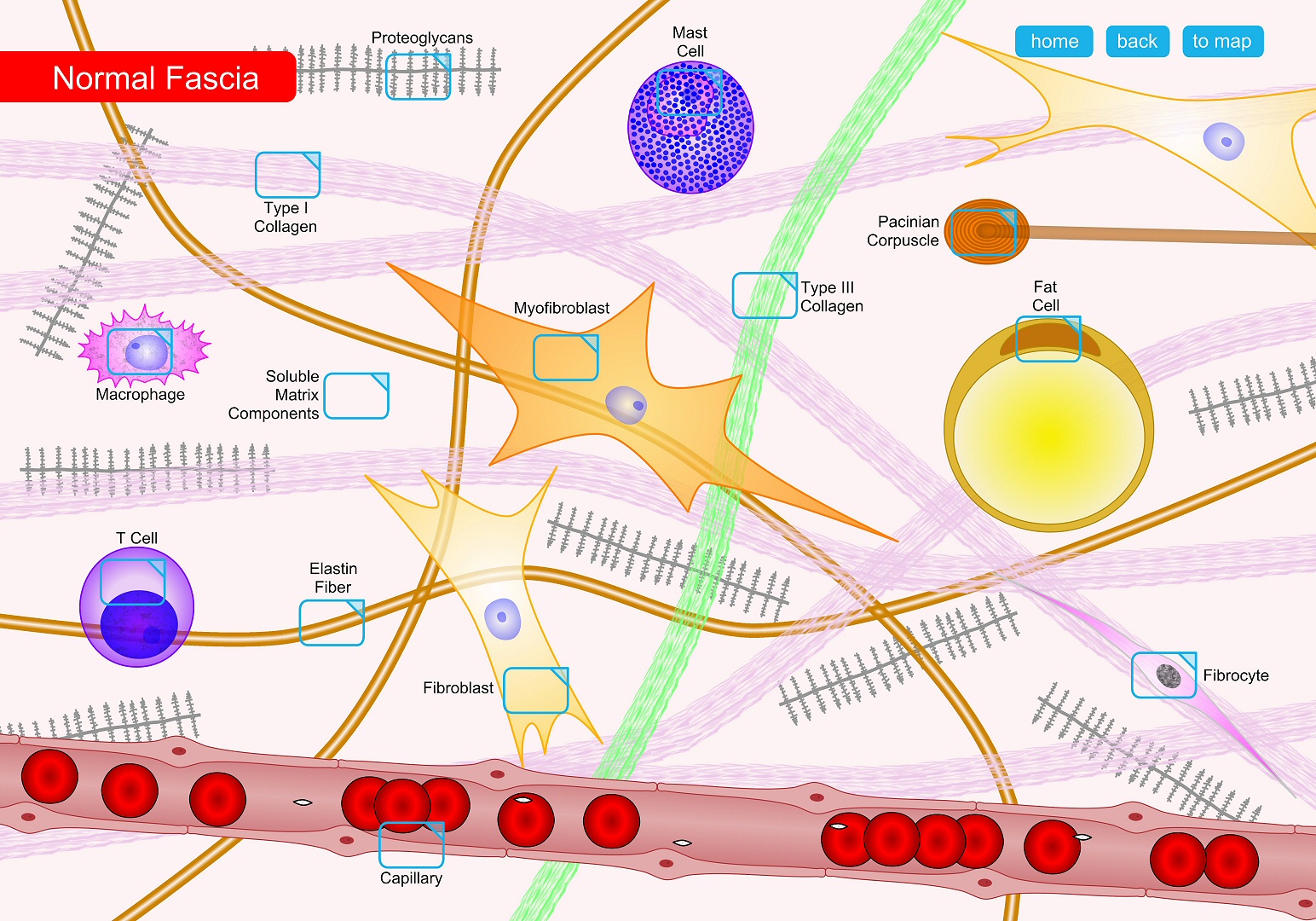 What we know about the systems biology on a molecular level and connect the dots to explain what happens in real life: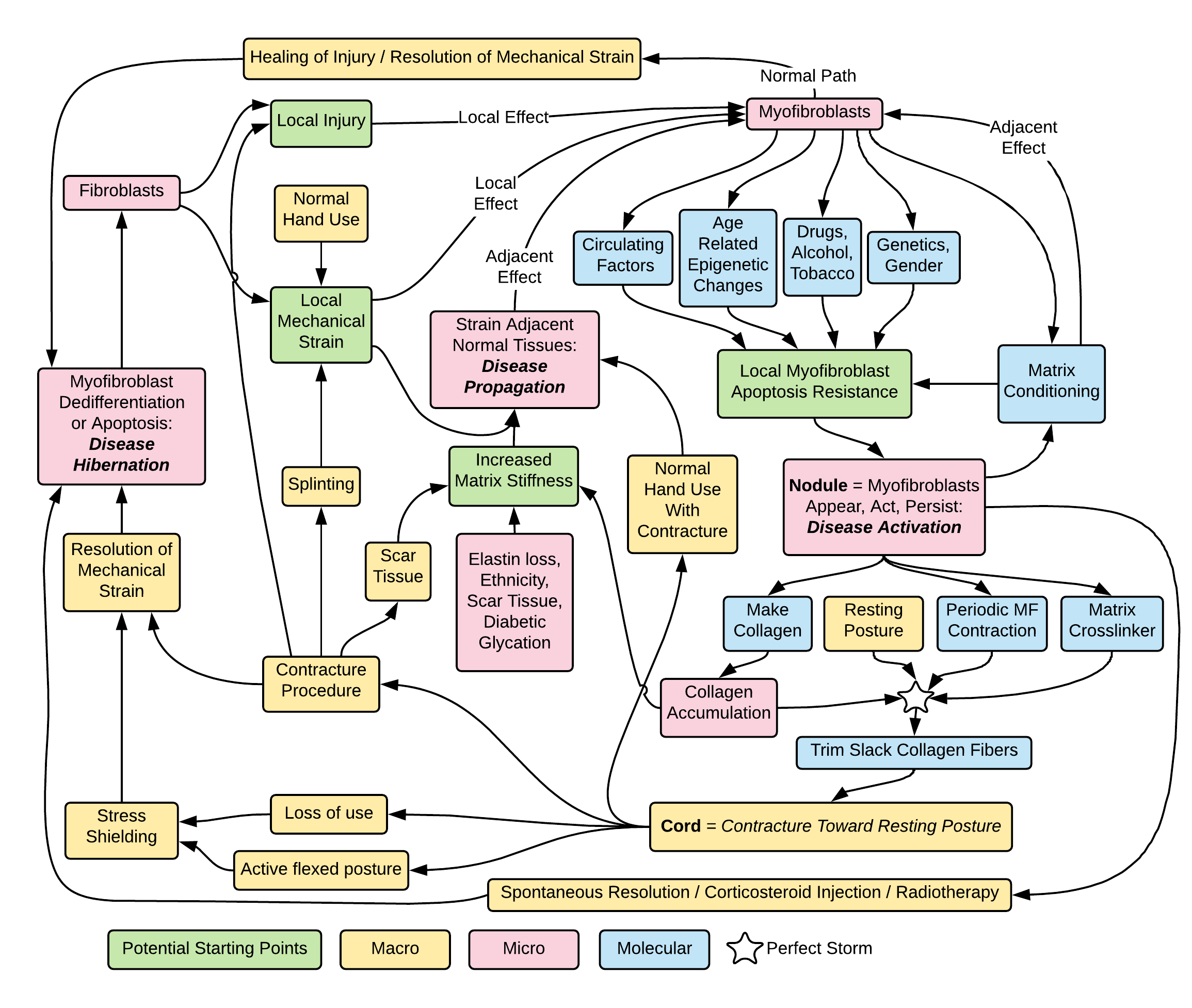 ---
Video Resources
Dr. Eaton's Feb 2018 Dupuytren Awareness Seminar in West Palm Beach is now available for viewing, indexed by topic: https://www.youtube.com/watch?v=JJk42abIEeQ. (Don't be fooled by the beard; it was temporary.)
---
Get involved!
Dupuytren Research Group continues to grow. We're looking for someone with nonprofit development experience to work with the DRG. Send inquiries to Pat Rowan pa.rowan@Dupuytrens.org.
Our collaborators at the Dupuytren's Disease Support Group (DDSG) https://www.facebook.com/Dupuytrens-Disease-Support-Group-995389703865768/ are working just as hard to promote Dupuytren Awareness as we are on organizing research. If you haven't joined, now is the time.
---
Make a difference for your family.
We don't yet know which genes are involved, but we do know that Dupuytren runs in families. If your family is affected now, future generations in your family are at risk.
Please donate now to support research for a Dupuytren cure: https://dupuytrens.org/donate/